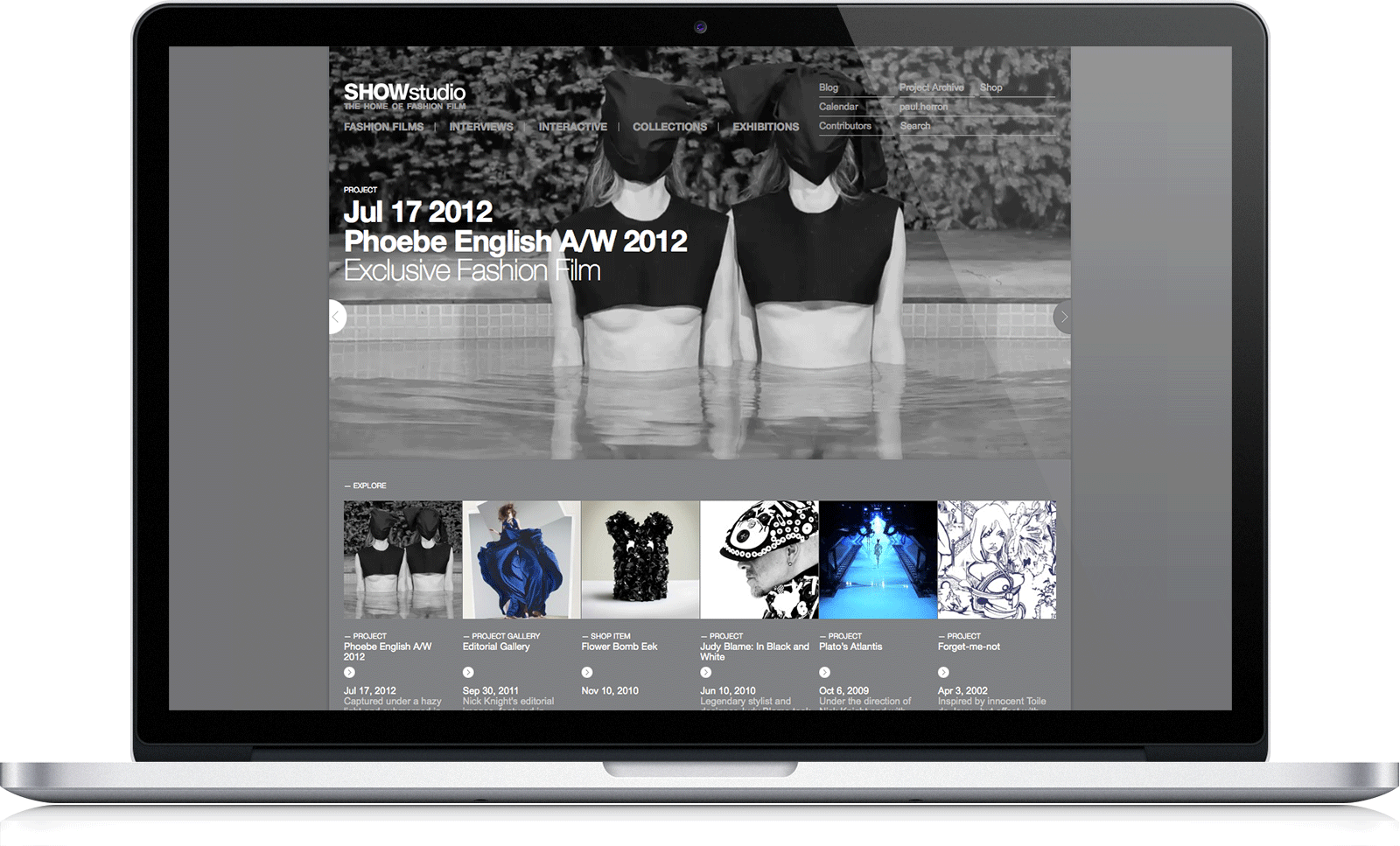 SHOWstudio website rebuild
Working with front-end developer Sally Northmore, I built the SHOWstudio website in CakePHP. Notable features include search, a calendar system, online store and a custom-built blog, all manageable through an intuitive admin panel.
I played a key role in the site's development, having input on issues like how content would be structured and what features would be present. I was solely responsible for the back-end build. As well as coding the site, this included a large data migration effort, pulling nearly a decade's worth of content out of the old site. I also took care of the new site's deployment to a scalable web hosting platform, Amazon EC2.
The site makes heavy use of Cake's plugin architecture, server-side caching and shell script functionality.
View project
Other things I've been working on recently
A very brief CV
Technical Skills
Back-End Web Development. 8 years' experience with CakePHP. Solid knowledge of other frameworks such as Laravel and Yii. Thorough understanding of building maintainable, scalable web applications using object-oriented code and the model-view-controller pattern. Solid experience with PHP 5, MySQL and PostgreSQL.
Front-End Web Development. 7 years' experience with jQuery. Thorough understanding of HTML5, JavaScript and CSS. Proven experience developing quality, user-focused, accessible and standards-compliant websites. Experience with tools like Backbone.js and AngularJS.
Systems Administration. 6 years' experience provisioning and maintaining Linux servers to run highly trafficked websites with high availability. Solid command-line knowledge. Experience with git, cron, rsync and related utilities. Ability to administer Nginx, Apache, PHP, MySQL, PostgreSQL, HAProxy, Exim, OpenSSH and other services. Knowledge of cloud platforms such as Amazon EC2 and development tools like Vagrant.
Work Experience
May 2015 — Present: Technical Lead (Freelance), MBA & Company

October 2014 — February 2015: Senior PHP Developer (Freelance), Amaze
Developing a PHP-based social publishing platform for an international hotel company. Taking the lead in development on the project, building it up from an early prototype to a production-ready site for use by 22,000 employees. Using an agile workflow. Establishing coding conventions, a Vagrant-based development workflow and a focus on unit testing. Using tools like CakePHP, Jenkins, Grunt, Sass and jQuery.
May — September 2014: Senior PHP Developer (Freelance), MBA & Company
Technical lead for the company, working with an in-house Junior Developer and several off-site teams to build the next version of a successful recruitment platform for this funded startup. Building features and reducing technical debt on the Yii-based platform. Using tools like Backbone, Sass and Elasticsearch. Overseeing an agile workflow and regular deployment process using tools like Jenkins.
July 2009 — April 2014: Back End Developer, SHOWstudio
Writing code to power the SHOWstudio website and related projects. Maintaining legacy code and managing the transition to a redeveloped, CakePHP-powered website. Building and managing virtual and dedicated servers. Managing live video streaming infrastructure, mailing lists, corporate email and other services.
Download the full document:
Word file PDF
Recent blog posts